New podcast by husband and wife duo covers everything from changing diapers to Super Bowl Sunday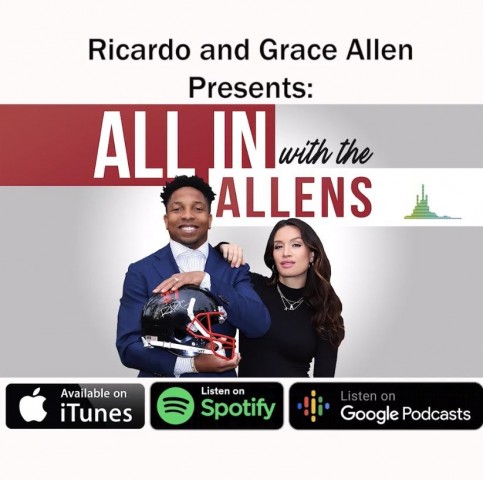 'All in with the Allens' is a recently launched podcast by husband and wife duo, Ricardo Allen and Grace Allen, where they share their unfiltered, raw, and honest opinions on a variety of topics such as family, life, marriage, kids and even life during NFL. They have released seven episodes so far and have received 5-star ratings and several amazing feedback from the listeners.
One of the listeners says, "Fell in love within the first 5 mins. Great podcast, super easy listen. You two are beautiful together. I've listened to all of them already and can't get enough. I'm subscribed and ready for more than the Allens have in store. This is great, I'm all in."
Ricardo and Grace Allen follow a very engaging and honest approach to share their views, perspective, and knowledge on different topics, whether it's about raising kids, pregnancy, or Quarantine life with the family.
In the episode 'Quarantine, Tiger King & Country Club Squirrels', the couple shares a refreshing perspective on how the Allens are spending their time in Quarantine. They talk about the popular Netflix show Tiger King and their relationship with the country club squirrels in these unfortunate times. The couple takes a journey back in time, to tell the story of how they met, in their episode 'How We Met, Part 1'. They discuss how Grace almost blew it up even before the two started and now that they have been married for five years, they share some relationship wisdom and insights.
'The Allens go to Disneyland" is about their fun and exciting adventure at Disney World. Ricardo and Grace share their honest feedback from their family vacation, where to stay, how to navigate the parks, budgeting for the trip, and other topics in this comical episode.
Grace sits down solo for her episode "Grace talks pregnancy and VBAC" to share useful information on topics of pregnancy, VBAC, and how COVID-19 affected her pregnancy and plans of delivery.
The Making of Ricardo Allen Part 1 and Part 2 are another interesting episodes by the Allens, where the couple discuss the early days of Ricardo's life, how it was like to grow up in a single-parent household and never knowing how his father shaped him into the man, husband, and father that he is today. Ricardo also shares his first memories of the football field and how he instantly fell in love with the game.
Listen to all episodes of All in with the Allens on Google Podcasts, Apple Podcasts, and Spotify.com.
Media Contact
Company Name: All in with the Allens
Contact Person: Grace Allen
Email: Send Email
Country: United States
Website: podcasts.apple.com/us/podcast/all-in-with-the-allens/id1506688674