Vacation Fundraising Aides Fundraisers Maximize Their Donations As Borders Reopen

Innovative fundraiser add-on, Vacation Fundraising, touches lives by helping thousands of tourists, travelers, and fundraisers to support laudable causes with a unique combination of tourism and charity
Vacation Fundraising has become increasingly popular in recent times, offering an unprecedented combination of charity and traveling, with a fundraiser "ADD ON" offering vacation packages in the form of silent and/or live auctions to help charities in need. Their slogan "Raising Funds the Fun Way" offers fundraising coordinators the ability to do just that. Vacation Fundraising currently works with 75 destinations in different parts of the world and that list continues to grow as they create new partnerships worldwide.
The organization has helped thousands of fundraisers maximize their donations for the last 3+ years by providing a platform and blueprint for fundraiser coordinators to follow, utilizing their silent auction items & ensuring clients, as well as their guests, have a reliable, secure, and legitimate choice for all their fundraising needs. Vacation Fundraising is compatible with practically any fundraising event, including comedy nights, golf tournaments, and spaghetti dinners, just to name a few. The user-friendly platform is easy to navigate, allowing fundraisers to leverage the concept by simply filling out the "Apply To Work With Us" form on the website.
Vacation Fundraising charges no upfront fees with a ZERO RISK policy, making it feasible for all kinds of fundraising initiatives, helping organizers to raise money without spending a dime while promoting safe travel again. Vacation Fundraising offers exciting packages, including two adults and up to 2 children (12 and under) for 3, 5, or 7 Nights. Upon donating at a fundraising event, guests can enjoy a complimentary hotel stay in some incredible resorts across the world, including Hyatt, Hilton, and Marriott amongst other big hotel chains. Fundraising guests have 18 months to travel on their trip once they donate at the fundraiser. This is usually ample time to scout the best rates for airlines and provide plenty of time for planning a great family getaway.
Vacation Fundraising has a team of passionate fundraising representatives that can walk event coordinators through the entire process, with a keyword feature for each event that makes it easy for fundraiser guests to donate in less than 60 seconds. Inline to deliver the best possible experience to users, Vacation Fundraising recently implemented QR codes to allow guests to make instant donations by simply capturing the QR code on the guest's camera which will allow a donation to be made with ease. According to Dee, a representative at Vacation Fundraising, they are expecting fundraising & in-person events to pick up significantly moving forward for the remainder of 2021 & the beginning of 2022. A recent study shows 42.7 percent of people give more during the holiday season than the rest of the year. "It's the season of giving & a great time to help loved ones (and even complete strangers) in need," said Dee.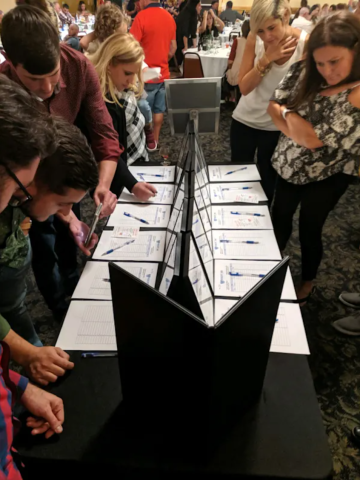 For more information about Vacation Fundraising and how to work with the platform, visit – www.vacationFundraising.org.
Media Contact
Company Name: VacationFundraising.org
Contact Person: Scot Potenti
Email: Send Email
Phone: 1-855-784-1902
City: Safety Harbor
State: Florida
Country: United States
Website: VacationFundraising.org