InfoSecTrain Wins EC-Council ATC Circle of Excellence Award for the year 2021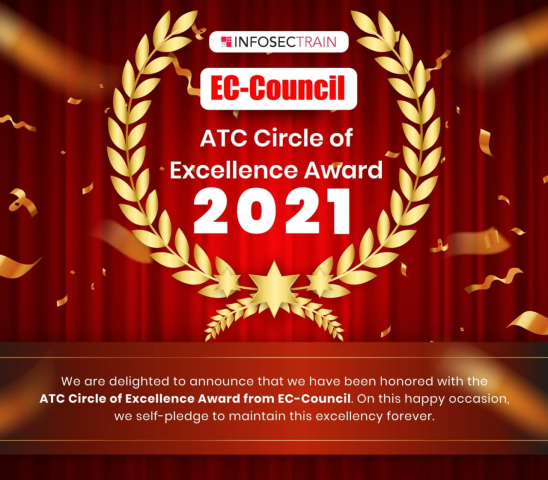 Infosec Train, a leading advanced IT security training provider, has been honored by the ATC Circle of Excellence Award of 2021 by EC-council for South Asia Region.
What:
EC-Council is a leading global non-profit organization that validates and certifies a professional's skills in Cyber Security and e-businesses. The certifications provided by EC-Council is greatly appreciated by global enterprises and government agencies across the world. Every year, the organization announces the ATC Circle of Excellence Award to honor the top Accredited Training Centers (ATCs) for their remarkable efforts, commitment, and valuable contribution to the information security domain.
InfoSecTrain has been training candidates in the various domains of the EC-council certifications bringing positive changes to numerous lives. "We are delighted to receive this honor consistently for two consecutive years. This shows that our dedication and commitment to deliver high-quality training for the Ec-council certifications has borne fruit. This recognition signifies the dedication and commitment that our team has shown to our clients in meeting their training needs and imparting quality resources to help them ace the certification exams. We are encouraged by this honour and we commit to strive harder and deliver even more in the near future!" said Depti Kalra, CEO of InfoSecTrain.
InfoSecTrain commits to deliver superior training and resources to candidates pursuing cybersecurity and cloud certifications and help them get accredited by global organizations like the prestigious EC-Council.
About Infosec Train:
Infosec Train is a leading advanced IT security training provider worldwide. Established in May 2016 by enthusiastic professionals, Infosec Train has helped individuals acquire the necessary skill sets to forge a promising career in the IT security domain. Infosec train is a trusted authorized partner of EC-Council, Microsoft, CompTIA, PECB, and Certnexus. It also offers training programs for other globally reputed certifications in the information security domain, including CISSP, CCSP, CEH, CCISO, and CompTIA Security+.
Media Contact
Company Name: Infosec Train
Contact Person: Vikas Agrawal
Email: Send Email
Country: India
Website: https://www.infosectrain.com/