Early investment secured Dale Ventures place in thriving technology metals industry
Dale Ventures-backed TechMet, a private metals company launched by industry veteran Brian Menell, has found itself at the forefront of an industry poised for massive growth. Over the last six months, TechMet's successes have seemed unstoppable and the company is deeply embedded in several projects that will undoubtedly change the worlds of technology and engineering.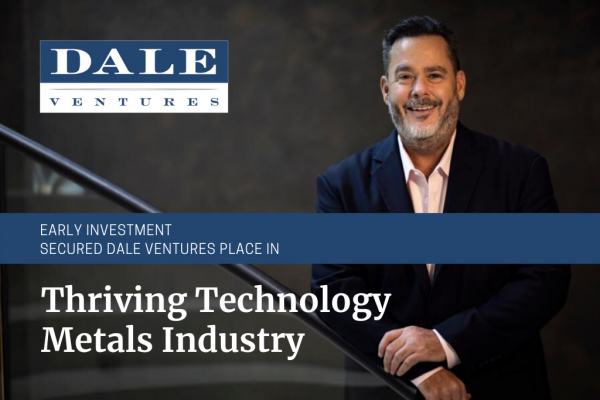 Dale Ventures, the personal investment holding group founded by Dale W. Wood, committed a seed investment of more than $500,000 to TechMet and continued to invest in the company's second and third funding rounds.
Since then, TechMet has secured a $25 million investment from the U.S. government and has become the largest non-management shareholder of Li-Cycle Holdings Corp. TechMet's successes are indicators of a thriving technology metals mining and recycling industry that shows no signs of slowing down.
The growing momentum of the technology metals industry is most recently evidenced by the creation of ESM Acquisition Corp., a $300 million special-purpose acquisition company launched by mining giant Sir Mick Davis. ESM Acquisitions is looking to invest in battery metals-related projects and production.
Davis formerly served as the CEO of Xstrata, one of the world's largest global diversified mining and metals companies. When he left the company following its merger with Glencore, Xstrata was valued at $39 billion.
"I am excited to see the world taking notice of TechMet, Brain Menell, and the industry as a whole," Dale Wood, founder and CEO of global investment firm Dale Ventures, said. "My conviction in Brian as a businessman and innovator has never wavered, and Dale Ventures is thrilled to be part of such a cutting edge and necessary move toward the future."
The battery metals space and mining sector are hot spots for cutting edge investors like Dale W. Wood and only stand to thrive as stakeholders around the world fight to reduce reliance on Chinese-dominated supply chains.
TechMet has established itself as a key player in the world of the industry by building controlling or significant minority positions in world-class projects across the technology metal supply chain. Through its projects, TechMet is able to secure the supply of metals critical to the future growth of electric vehicles, energy storage, and renewable energy.
TechMet has ongoing projects in the United States, Canada, Brazil, Rwanda, and Burundi, among others, which made it a natural fit for Dale Ventures' worldwide portfolio.
TechMet recently secured a $25 million investment from the U.S. government to help fund a Brazilian nickel and cobalt project to ultimately boost electric vehicle battery production. The move came after officials expressed concern that China's control of rare metals supply could ultimately harm companies across the globe. Nearly two-thirds of the world's lithium-ion batteries are produced in China.
The recent merging of Li-Cycle, an industry leader in lithium-ion battery recycling, with Peridot Acquisition Corp. to form Li-Cycle Holdings Corp. earlier this year also signaled the transformation of the global mobility and energy landscape. At the time of the merger, the listing value of Li-Cycle was $1.67 billion, and the company was expected to have $615 million of cash. The pre-opening price of Peridot implies a Li-Cycle market cap of $2.8 billion.
TechMet has been the primary funder of Li-Cycle over the last two years as the company has developed its first two commercial plants in Ontario, Canada, and Rochester, New York.
"Li-Cycle now has the funding firepower to globally scale this unique and environmentally sound recycling technology," Menell said in a statement, calling Ly-Cycle a "'once-in-a-century' investment opportunity."
About Dale Ventures
Dale Ventures is a personal investment holding group founded by serial investor Dale W. Wood. The company partners with management teams to provide the significant strategic and analytic resources needed to build and grow remarkable companies. Dale Ventures has adopted a consultative approach that harnesses the power of innovative teams to generate groundbreaking ideas, tactics, and strategies that drive growth and build long-term value.
For more information about Dale Wood and his projects, please visit www.Dale.com and Facebook.com/DaleVentures

Media Contact
Company Name: Dale Ventures FZE
Email: Send Email
Address:Emirates Towers Level 41 Shiekh Zayed Road P.O. Box 31303
City: Dubai
Country: United Arab Emirates
Website: http://www.dale.com/